Curriculum
The Flagship School Curriculum Statement
Intent
Curriculum principles central to The Flagship School curriculum will be the integration of therapy, academic work, enrichment and life skills. We will meet pupils' needs by utilising every aspect of the school day to support pupils develop pro-social and pro- learning behaviours to attain greater levels of independence and reach their academic goals.
Our integrated curriculum is broad and balanced • Therapeutic • Academic • Enriched • Builds life skills and character
Big ideas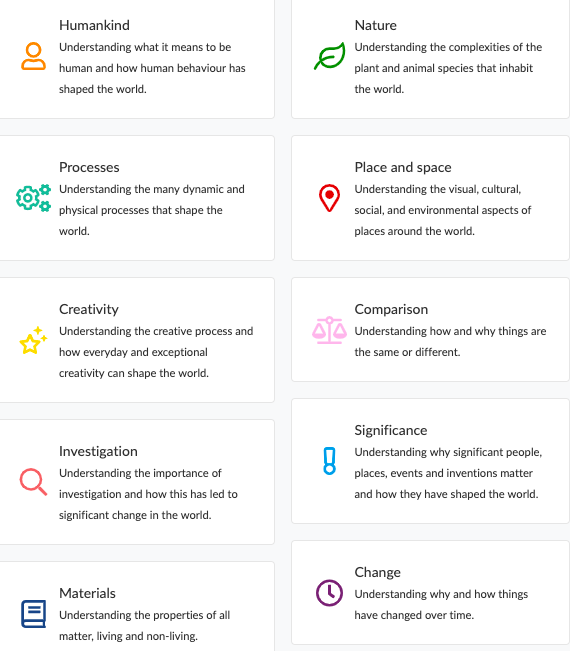 Mission
Our mission is to remove barriers to learning and allow our pupils to thrive in an enriched environment. We offer an adjusted, therapeutic curriculum to support our pupil's individual needs as stated in their EHCP. Our curriculum will significantly impact our pupils' lives and open the door to a happy, successful future.
General principles
Our curriculum will give children the opportunity to:
• experience the challenge and enjoyment of learning
• develop and demonstrate their creativity
• develop a rich and deep subject knowledge
• explore the breadth and depth of the national curriculum
• understand the purpose and value of their learning and see its relevance to their past, present and future
• learn within a coherent and progressive framework
• develop new skills through a variety of interesting contexts
• see clear links between different aspects of their learning
• access learning with appropriate equitable adjustments, accommodations, and enhancements
• make choices that allow them to feel a sense of ownership and self-direction within their learning pathways
Purpose
These principles are at the heart of our school. Our pupils have barriers to learning that need a variety of approaches and adjustments for them to achieve. We need to constantly review, reflect and assess our curriculum aims and principles in light of the achievements of our pupils.
Spiritual, Moral, Social and Cultural/Fundamental British Values
Our curriculum will give children the opportunity to:
• Social - Use a range of social skills to participate in the local community and beyond; appreciate diverse viewpoints; participate, volunteer and cooperate; resolve conflict
• Cultural - Appreciate cultural influences; appreciate the role of Britain's parliamentary system; participate in cultural opportunities; understand, accept, respect and celebrate diversity
• Tolerance and respect - To respect and tolerate the opinions or behaviour of others
• Spiritual - Explore beliefs, experiences and faiths, feelings and values; enjoy learning about oneself, others and the surrounding world; use imagination and creativity and reflect on experiences
• Rule of law - Learn that all people and institutions are subject to and accountable for their actions and behaviour
• Democracy - Be part of a system where everyone plays an equal part
• Individual liberty - Be free to express views or ideas
• Moral - Recognise right and wrong and respect the law; understand consequences; investigate moral and ethical issues and offer reasoned views
• Social- model, practise and transfer application of good social skills from the classroom out into the wider world
Purpose
These principles are vital for our pupils, who have particular social and emotional vulnerabilities. We aim to model values and skills, offer the opportunity to practise values and skills and then transfer this into the broader world as fully rounded citizens.
Well-being
Our curriculum will give children the opportunity to:
• reflect and think mindfully about their learning
• work in a range of groups and settings
• learn how to respect themselves and others
• learn in a peaceful and supportive environment
• build respectful friendships
• recognise that people are good at different things
• follow their interests and be themselves
• develop self-esteem and confidence in their abilities
• understand how their brain works and give them strategies to regulate
• feel safe in a trauma-informed environment that 'listens' to our pupil's voices and offers them diverse voices to 'listen' to within our curriculum literature and reading material
Purpose
Our pupils' well-being is the vital foundation to their academic learning. Adverse childhood experiences impact many, affecting their developing brain, and emotional regulation needs a strong baseline trauma-informed approach. We incorporate well-being throughout the academic day. It is woven into our curriculum, e.g. the use of the Mind Up Curriculum, movement breaks, pro-active cognitive strategies and reflection on our learning at all times of the day.
Pupil's voice
Our curriculum will give children the opportunity to:
• make a positive contribution to the school and local community
• make choices about things that are important to them
• contribute to planning their learning
• express their opinions on a range of different topics and issues
• take part in democratic activities across the curriculum
• take part in age-appropriate discussions
• explore ways of becoming an active citizen
• say what they like and dislike about their learning
Purpose
Our pupils' voices have often been hidden behind their barriers to learning. We need to ensure experiences, adjustments, and accommodations are in place that allows them to flourish and find their authentic voice.
Pedagogy
Our curriculum will be taught through a pedagogy that:
• promotes problem solving, creativity and communication
• enables children to reflect on and evaluate their learning
• excites, promotes and sustains children's interest
• offers all children a memorable experience at the start of every topic
• enables and fosters children's natural curiosity
• promotes innovation and entrepreneurialism
• supports children's ability to 'know' how their brain learns
• uses a cross-curricular approach to engage and enrich our children's learning experience
Purpose
Where appropriate, subjects are taught discretely (for example, Maths, English, RE, or PE), but a more integrated and thematic cross-curricular approach is adopted in other subjects to ensure pupils have an understanding and appreciation of the broader context of subject knowledge, understanding and the application of essential learning skills. Each lesson has a precise subject learning focus which identifies the expectations for children to achieve the expected standard for their age and the expectations for greater depth. It is clear that where reading, writing and mathematical skills are being applied, the expectation for high standards appropriate to their ability in those subjects is the same. These themes are exciting topics that act as stimuli for all the learning within most of the curriculum subjects. Our cross-curricular themes allow for subjects to be linked and give context to the children's skills. Topics are chosen to meet the requirements of the national curriculum and reflect the children's interests, strengths and needs, and events happening locally, nationally or internationally.
Enrichment
We will enrich our curriculum by:
• developing community partnerships with external providers that extend children's opportunities for learning
• offering opportunities for children to learn outdoors
• providing on and off-site subject or topic related activities
• holding specialist curriculum days or weeks and inviting local speakers and experts to engage our pupils
• using quality resources in and out of the classroom
• welcoming parents and carers to take part in children's learning and experiences
• offering STEAM and STEM experiences that would not usually be available to our pupils
• Using every aspect of the school day- lunchtime and break time- to offer enrichment activities
• Allowing our pupils to be the published authors of their work
• Using our Student Council to choose enrichment activities that pupils voice vote on
Purpose
Our pupils have often missed out on enriching activities, and they must have equity in this area. Enrichment is essential to their mental health and wellbeing alongside their academic learning. A sense of excitement, community and curiosity will all be engendered by our enriched curriculum.